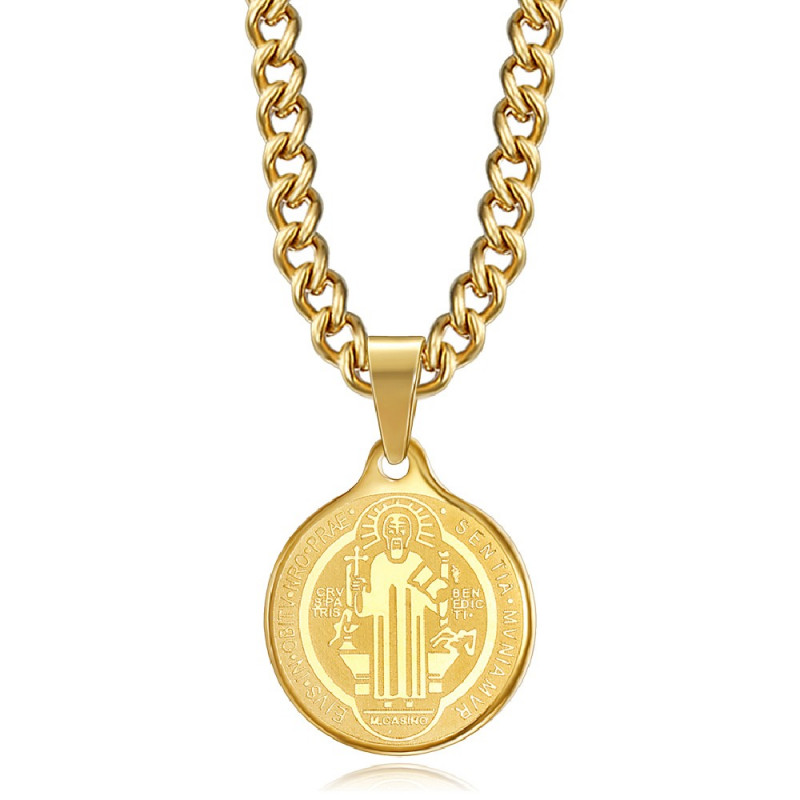 
Pendant Medal Necklace, St Benedict Steel Gold Chain
 IN STOCK | DELIVERY 72H.
Pendant Round Medal Necklace Saint Benedict Protection 316L Steel Gold Golden Plated PVD Chain
Pendant round medal of Saint Benedict of Nursie in 316L stainless steel finish with fine gold (gold plated, 2 microns).
To suit the highest number of people (man, woman, or child), this jewel protector is available in 3 sizes with a choice of :
14, 18 or 27mm (diameter of the coin).
This beautiful medal will be delivered with a chain 55cm long and 3mm wide, also made of stainless steel (visible on the pictures).
On one side we see standing and basking in the image of St Benedict holding in one hand the cross and in the other the book containing its rules.
Behind him, on a pedestal to his right, a chalice or spell a snake, on the same pedestal to his left is a raven.
Next to him, to the right and to the left, the inscription CRUX S. PATRIS BENEDICTI (Cross of the holy father Benedict).
Around it the Latin inscription : EIUS IN OBITU NRO PRAESENTIA MUNIAMUR (Which, at the hour of our death we are protected by his presence).
Below the inscription MCASSINO who wants to say Monte CASSINO (Monte Cassino) which is home to territorial Abbey of Monte Cassino in Italy (founded by Benedict of Nursia in 529). It served as the retirement of the rulers, and pontiffs such as prince frank Carloman, brother of Pepin the Short, the lombard king Ratchis (with his family), and saint Gregory.

On the other side the cross of St Benedict contains the following letters:
NDSMD : Non Draco Sit Mihi Dux (may the devil not be my leader, or my guide).
CSSML : Crux Sancta Sit Mihi Lux, or Crux Semper Sit Mea Lux (may the holy Cross be my light) or (as may the cross always be my light).

On each side of the cross in a circle 4 letters forming CSPB : Crux Sancti Patris Benedicti (cross of the holy father Benedict)
and around the cross :
top PAX for Peace.
around V..R..S..N..S..M..V..S..M..Q..L..I..V. B.. the formula of the exorcist against the demon
V. R. S. = Vade Retro Satana (begone Satan)
N. S. M. V. = Nunquam Suade Mihi Vana (Do not advise me ever thy vanities")
S. M. Q. L. = Sunt Mala Quae Libas (Your beverages are bad)
I. V. B. = Ipse Venena Bibas (the Wood yourself your poisons)
Set comes in a pouch microfiber
The best quality/price ratio
Satisfied or refunded 30 days
VAT invoice
French company based in Occitania (Hérault)