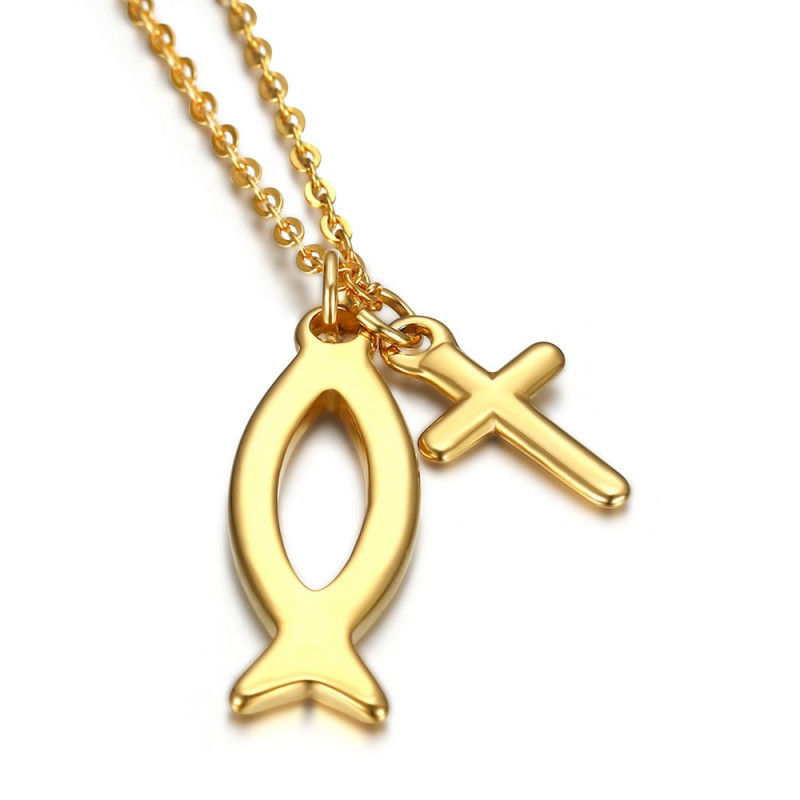 
Pendant Set Cross Jesus Ichthus Fish Gold
 IN STOCK | DELIVERY 72H.
Pendant Set Cross and Ichthus Fish Jesus Steel Gold Chain Necklace Gispy Baptism
Inspired by our customers and created by "BOBIJOO Jewelry", check out this beautiful double pendant representing the Latin cross and the Ichthus.

The Ichthus or Ichthys (poison) represents a cipher, a kind of recognition code, and it is thus that the first christians identified with Jesus Christ.
A very well-known in the world of the evangelists, and especially among our friends the travellers.

This jewel is made of stainless steel, gold (gold plated, 2 microns).
The cross measures 15mm high by 9mm wide while the fish Ichthus measuring 22m high by 9mm wide.

Finishes (thickness 2mm).

A thin chain is visible on the photos, you will be delivered free of charge with the pendant (length 45cm).

Our steel is guaranteed to withstand water, fragrance, sea water, chlorine from the swimming pool, etc...
It is almost indestructible, and it meets the French and european standards (Attention to the metal bottom of the range).


Shipping neat in a pouch in microfiber

Satisfied or refunded 30 days

French company based in Occitania (Hérault)

Reviews about this product

Show attestation
Exactement comme je le souhaitais.